Vancouver 2010 Olympic Games: Snowboarding
With a stacked team, US snowboarders could well repeat their 2006 feat of capturing more medals than any other US team – making them key to the overall medal count.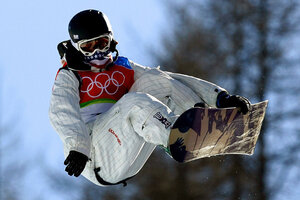 REUTERS/Dylan Martinez
Who to Watch
White is expected to repeat the gold medal-winning halfpipe performance (see helmet cam video) he gave at the 2006 Games in Torino. The energetic carrot-top is an action sports icon, appearing regularly on magazine covers and in Red Bull commercials and has two video games that bear his name. White's success both in and out of the halfpipe is tremendous: Last year he brought in an estimated $9 million in prize money and sponsorships, making him the second-highest paid action sport star in the nation.

Maelle Ricker, CAN (see video)
The veteran of the Canadian team, Ricker is one of the most consistent snowboard cross competitors in the world. She was a bronze medalist at the 2005 World Championships and finished fourth at the 2006 Torino Games. While her strength is in snowboard cross, Ricker is an accomplished halfpipe boarder as well, having finished fifth in Nagano at age 19.
---