Bode Miller bronze: what a difference four years makes
For American Bode Miller, bronze in the men's downhill Monday was a sign of how much his attitude toward the Winter Olympics has changed since Turin.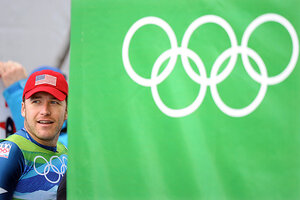 Newscom
Whistler, British Columbia
Monday morning, Bode Miller went out and did what he could not do in five tries four years ago: He won an Olympic medal – a bronze in the men's downhill.
About an hour later, he did something even more surprising: He talked about how much the Winter Olympics meant to him.
This Olympics, "I wanted to let myself get involved and be emotional about it," he said at the post-race press conference. "It's different … when you feel the Olympics and get a little bit scared and let that move through your whole body."
He should know. Determined to treat the Turin Olympics just like any other race, Miller succeeded mainly in alienating most of America: He didn't win a single medal, and – perhaps worse – he didn't seem to care.
But when he decided this offseason to keep skiing for at least one more year, his purpose was "to race in the right fashion," he said Monday. And that included the Olympics.
"I wanted to race with inspiration," he added.
Turin-ing the page
Four years ago, those words could have won him at least a measure of compassion from the American public, if not a medal. Monday, they did both.
By all accounts, Miller is having fun – that quality that Americans perhaps cherish most in their Olympic athletes. Even though he was scheduled to race Saturday morning, Miller walked in the opening ceremonies Friday. (The race was the men's downhill, which was postponed to today because of the weather.)
---