Gold rush: Steve Holcomb barrels US bobsled to top of podium
Pilot Steve Holcomb and his US bobsled crew dominated a tough field at the Vancouver Olympics to win gold for the first time since 1948 – and the accolades of the sport's most decorated athlete, Germany's Andre Lange.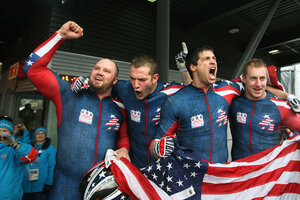 NEWSCOM
Whistler, British Columbia
Barreling down the Whistler Sliding Track at 95 miles per hour, Steve Holcomb couldn't see very well.
But that was all part of the plan he's had since 1994 to win a gold medal.
Holcomb has an uncanny ability to drive largely on feel – something he bolsters by intentionally wearing a scratched visor that limits visual input. Despite having little time to learn the course here that has caused so many bobsleds to careen across the finish line upside down, Holcomb guided his 1,400-lb. "Night Train" sled to four stellar runs on Friday and Saturday, capturing America's first gold in the sport since 1948.
He also became the first driver to beat Germany in the Olympic event in nearly two decades.
"We had two very strenuous days and we can say that Steven really deserves this gold medal," said Kevin Kuske, a crewman for Germany's veteran pilot Andre Lange, who came from behind to win silver by 0.01 seconds. "Especially in the fourth heat, we definitely gave it all."
Grunts, roars – and history
At the start house before the final teams took their historic runs, Lange stood quietly by his sled while his crew got amped up for the run – grunting, roaring, and jumping in place like exploding lava. Then, a moment of tense calm – eight massive legs poised to spring, shaking like racehorses in the gate.
And they were off!
They rumbled down the fastest track in the world, flying perpendicular to the ground around banked turns with nothing but four slender runners and centrifugal forces gluing them to the ice. After a rough start Friday, Lange found the track's sweet spots and bumped Canada-1 into bronze in the final seconds of the run, capping an illustrious career that includes four Olympic golds, eight world titles – and now, an Olympic silver medal.
---