Olympics soccer: dynamic duo sparks USA comeback against France
USA spotted France a 2-0 lead in the first 15 minutes before roaring back for a 4-2 win in its Olympic opener. US forwards Abby Wambach and Alex Morgan were dominant.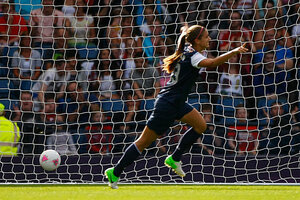 David Moir/REUTERS
So, what, exactly, are we to make of the USA's 4-2 win in their opener in the women's Olympic soccer tournament Wednesday.
The American women did begin about as well as "Saving Private Ryan," conceding two goals in the first 15 minutes.
Then again, they won 4-2, and France, who likes to play with a certain amount of artistry, didn't look like it had any idea how to handle the US defense pressure. Given the choice of playing A) a pack of wild dogs, or B) a US team pressing them high up the pitch, giving them no space or time to play Monet, the French might well have chosen A.
In the end, the entertaining game gave an unvarnished look at what the US team is: A team with awesome offensive firepower and a dodgy defense that could keep every game against top teams close.
Fortunately for the US, the team perhaps most capable of beating them, Germany, is not here because of a quirk in the Olympic qualifying process. Meanwhile, Brazil appears on the downward swing, and France, on this evidence, is not far enough on its upward swing to handle what the US offers.
In last year's World Cup final, Japan held on for a draw (and a win in penalty kicks) thanks only to some shocking American defending. That was in evidence again Wednesday, too.
In front of their own goal, the US defense too often looked as though it was responding to a fire alarm. Surprisingly, neither of the French goals were created by their undoubted skill. On the first, two American defenders mixed signals, allowing Gaetane Thiney the space and time to launch a thunderous shot into the far corner from 20 yards. Two minutes later, a French corner fell into the American box like a grenade, and forward Marie-Laure Delie was the first to pounce, powering it past US keeper Hope Solo.
---