Olympics: Swiss soccer player sent home for racist tweet
Michel Morganella joined the growing list of athletes at the London Olympics who have gotten into hot water for using Twitter.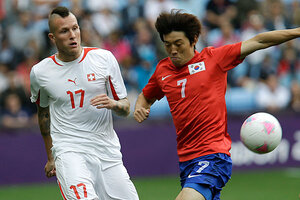 Hussein Malla/AP
Is it possible that no one told Swiss soccer player Michel Morganella that people he doesn't know can read Twitter? That, in fact, everyone can read Twitter?
When his frustration at losing to South Korea Sunday bubbled over into a crude tweet about how people from that country "can go burn" and are "a bunch of mongoloids," what did he think was going to happen, exactly?
What did happen was so predictable that it hardly even needs to be mentioned. He was sent home, probably on the first available flight out of Heathrow.
The London Games, it seems, are destined to become known as the Twitterlympics – or, more accurately, the first of the Twitterlympics, because social media isn't going anywhere. The question is: How much will the golden fist of the International Olympic Committee (IOC) allow athletes to get way with?
Athletes are tweeting everything short of reports on trips to the loo. Normally, that's OK. We just get pearls like: "Walking the streets of London." (Thank you, @KingJames.)
---