Olympics: Why booting the badminton teams was the right call
Badminton's governing body kicked four women's doubles teams out of the Olympics for trying to lose. Our sports reporter argues they broke the golden rule of sport.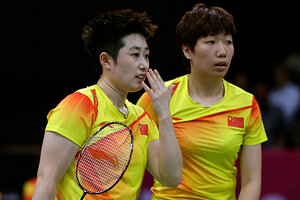 Andres Leighton/AP
Playing to lose, apparently, is not a tactic. It's a complete perversion of sport.
At least, so said the Badminton World Federation in kicking four women's doubles teams – two from South Korea, one from Indonesia, and the world No. 1 team from China – out of the London Olympics.
From the outset, it was obvious that none of the teams wanted to win, dumping serves in the net and generally playing as though this was a Fourth of July barbecue and the brats were burning. The reason was clear: They were trying to avoid playing a top team in the next round after the world's No. 2 pair, which had unexpectedly lost earlier, busted the tournament brackets.
Losing a meaningless round-robin game would be better than losing the next match, which was in the knockout round. Or so the thinking went.
Is that so different from basketball teams that rest their best players in a final group-stage game in order to have them ready for the knockout round? Or is it so different from being coy in a group-stage game – perhaps not showing all your tactical cards – so that, if you face the same team again when it matters more, you'll have an ace up your sleeve?
The answer, as the BWF rightly decided, is yes, there is a huge difference. There are some fine lines in sport, but this was not one of them.
---