London 2012 javelin preview: Beijing veterans look to grab gold again
London 2012 javelin: In the men's and women's competitions later this week, Norway's Andreas Thorkildsen and Barbora Spotakova from the Czech Republic, both gold medal-winners from Beijing, will try to stay on top.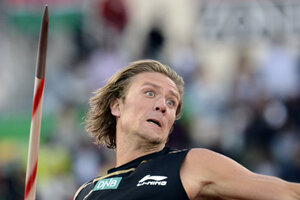 Dylan Martinez/Reuters
The javelin competition begins Tuesday at 5 a.m. EST with the women's qualifying round. Two groups of 21 athletes will try to overtake each other's throws and make it to the final round.
The woman to watch is Barbora Spotakova, from the Czech Republic. Not only did Spotakova win gold in the women's javelin at the Beijing Games, she is also the current world record holder, with a throw of 72.28 meters in 2008.
But since then, Spotakova has had some competition. Russian Maria Abakumova has proved tough, and in a close meet between the two at the world championships in 2011, Abakumova was victorious.
Three American women will compete in the javelin preliminaries, Brittany Borman, Kara Patterson, and Rachel Yurkovich. Borman, who is from Missouri, will compete at the Olympic level for the first time and needs a repeat of her stellar performance at the Olympic trials. She took first place in the javelin at trials after coming from behind, third place, in the last round to win. Borman's personal best is 61.51 meters.
---