Olympic medal count: US hot on the track
With track and field events kicking into high gear, the Americans have already won some medals and there's more to look forward on Tuesday.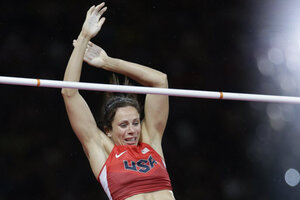 David J. Phillip/AP
At the London Olympics the past few days, it's been all about track and field, and American athletes have risen to the occasion.
On Monday afternoon pole vaulter Jenn Suhr, from Fredonia, New York, won the gold medal. Suhr had won the silver medal in the Beijing Games, but faced tough competition from Cuban Yarisley Silva and Russian Yelena Isinbayeva.
The three went round after round as the bar was moved higher and higher, until finally, Silva and Isinbayeva faltered at the 4.80 mark. It was a bit of an upset, considering Isinbayeva had cleared the 5.06 mark in 2009 to set the world record.
On Monday Michael Tinsley, from Little Rock Ark., also won a hard-fought silver medal in the men's 400-meter hurdles. Tinsley, with a time of 47.91 seconds, finished just behind the Dominican Republic's Felix Sanchez, who ran a 47.63 for the gold. Javier Culson, from Puerto Rico, won the bronze.
---