London 2012 Olympics: Does beach volleyball need the bikini?
In one women's beach volleyball semifinal amid a driving rain at the London 2012 Olympics Tuesday, neither team wore just their bikinis. What women wear has been a big issue here.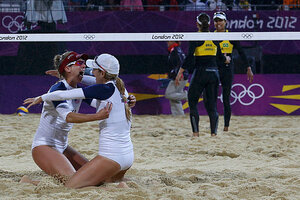 Suzanne Plunkett/REUTERS
Kerri Walsh and Misty May-Treanor will try for their third consecutive gold medal in beach volleyball Wednesday when they face fellow Americans April Ross and Jen Kessy in the final at the London 2012 Olympics.
Now that that's out of the way, can we talk about what they were wearing? In the semifinal between Ross/Kessy and Brazilians Larissa and Juliana, neither team wore just their bikinis on a cold London night with driving rain, prompting International Olympic Committee (IOC) President Jacques Rogge to promise a full investigation. "This is clearly not in the Olympic spirit," he said.
OK, he didn't say that, and there is no inquiry. But in the sometimes alternate universe of beach volleyball, that it often what it feels like.
From head scarves to skirts, there has been a lot of talk at the London Olympics about what not to wear for women, but nowhere more so than at beach volleyball, where the decision earler this year to allow women not to wear bikinis has been met with relief by women's rights groups, dismay by some casual fans, and a gigantic shrug by the players themselves.
It is the flip side to another and rather more momentous first at London 2012: Each competing nation has brought at least one woman athlete. To reach that goal, which the IOC made a high priority, the federations that govern Olympic sports have had to reach out to Muslim nations, and by doing so, the Olympic dress code has begun to change.
---