Olympic medal count: US back on top
The United States surpassed China in total medal count on Wednesday, racking up seven medals in track and field and two in beach volleyball.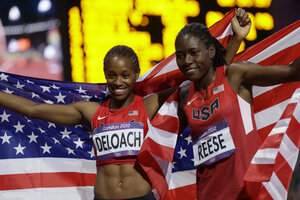 Ben Curtis/AP
On Wednesday, the US was back on top in total medal count with 81 to China's 76.
Most of the medals came from the track; the US medaled in every track and field event held on Wednesday.
Brittney Reese, from Mississippi, won the gold in the women's long jump, and Janay DeLoach, from Florida, won the bronze. Reese, a two time world champion, had competed in Beijing, but finished fifth. On Wednesday she flew past the competition, with a jump of 7.12 meters. The silver-medal winner, Russia's Elena Sokolova landed at 7.07, and DeLoach walked away with a 6.89.
The US also took two medals in the men's 110-meter hurdles. Aries Merritt, from Georgia, won the gold medal and Jason Richardson, from Texas, won the silver. Both are hurdling all-stars. Merritt won the indoor world championship in the men's 60-meter hurdles this year, and in 2011 Richardson won the world championship in the 110-meter. Hansle Parchment, from Jamaica, won the bronze medal.
---