Olympics soccer: Is Alex Morgan the next Mia Hamm? Teammates gush.
Alex Morgan is the real deal, say coaches and teammates. She's a new breed of US women's soccer player and an integral part of the team's push for Olympic gold against Japan Thursday.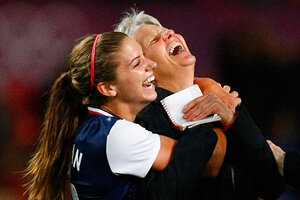 David Moir/REUTERS
Heather O'Reilly has just made a remarkable statement. It is a media summit before the Olympics began, and she is talking about American soccer forward Alex Morgan.
"She is probably the best natural goalscorer I've played with," she says.
Bear in mind, at the 2004 Olympics, Ms. O'Reilly played with Mia Hamm, the all-time leading goalscorer in women's soccer history.
Then, earlier this week after a training session, No. 2 all-time leading scorer Abby Wambach took Ms. Morgan aside. "She said she didn't think she had had a partner in crime" – in this case, goalscoring – "since Mia Hamm in 2004," Morgan said at a press conference Wednesday.
There's that Mia Hamm name again, and Morgan's name right beside it.
There's good reason.
As the Americans prepare to face Japan in the gold medal final of the London 2012 Olympics at historic Wembley Stadium Thursday, there is no question this is still Wambach's team. Her presence is the central point around which the entire American team spins.
Morgan's contribution
---