30 Olympic questions spilling out of the XXXth Games
As the Olympics draw to a close in London, a TV spectator in the US is left with a host of random questions.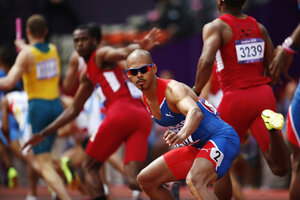 Matt Dunham/AP
Repeat performance
1 - How rare is it for an athlete to win a gold medal eight years apart with an identical time? That's what Puerto Rico's Felix Sanchez did in winning the men's 400-meter hurdles as he did in the 2004 Athens Games in 47.63 seconds.
Football folly
2 – Can National Football League Commissioner Roger Goodell really be serious about trying to get football on the Olympic program? The sport has never seriously established itself outside of North America. Plus, how can you hold a tournament during the Olympic fortnight when games are traditionally played a week apart?
Bare-skin billboard
3 – What happens if an Olympic swimmer shows up some year with a personal sponsor's name or logo –not that of an official Olympic sponsor - tattooed on his or her body? Will officials insist it be covered by a wetsuit?
Track pioneer
4 – Now that South African double-amputee Oscar Pistorius has run the 400 meters in the Olympics on J-shaped Cheetah blades, will other disabled athletes soon follow his breakthrough or will he remain a lonely crossover athlete?
Remember L.A.
---