Usain Bolt: Still the world's fastest man?
Usain Bolt lost two races to fellow Jamaican Yohan Blake this weekend. Can Usain Bolt regain his stride in time to win at the London Olympics?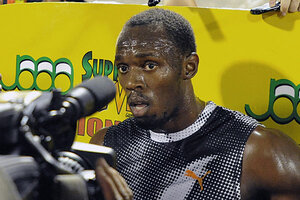 (AP Photo/Collin Reid)
In the 100, it was the start. In the 200, it was the curve.
Safe to say Usain Bolt has plenty to work on and not much time to do it — and that's before he even starts thinking about the man who kept beating him at the Jamaican Olympic trials, Yohan Blake.
When Bolt awoke Monday morning, there were 33 days until the start of the 100-meter sprints at the London Olympics, where the British sports books list him at 4-6 to win — still a favorite to earn the "living legend" status he seeks at the upcoming games but a much less prohibitive one than he was before trials began.
"I never train for one person," Bolt said. "Everyone is talking about Yohan Blake and he is proving himself as one of the greatest. But for me, it's going back to training, getting back to work to and getting done what I've got to get done."
RECOMMENDED: 15 greatest moments for women in the Olympics
If Bolt does get things back on track, will that be enough? Great question.
In the 200, the smart money would say yes, at least if Sunday's performances are any gauge. Blake won in 19.80 seconds into a slight headwind — not all that impressive a time for a man who has run 19.26. Bolt, of course, holds the world record at 19.19. He ran 19.83.
"They ran 19.8. That's the world-record holder who ran 19.1 and the second fastest man in history who ran 19.2," said Wallace Spearmon, who won U.S. trials Sunday in 19.82. "Honestly, I figured they'd run about 19.5 or 19.6 today. (That) caught me off guard a little. Not a bad thing, but I didn't know."
---