USA vs. Spain: A sneak preview of gold medal match?
USA vs. Spain: The Americans basketball team beat Spain 100-78 Tuesday night. These are best two teams in the world and USA vs. Spain is the expected pairing in the Aug. 12 gold-medal game.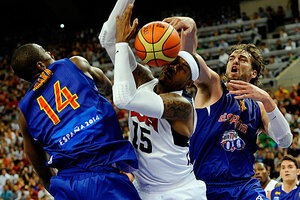 (AP Photo/Manu Fernandez)
There is no exhibition game gold medal. The only prize was some player of the game award LeBron James and Carmelo Anthony shared.
Not counting doesn't mean not mattering.
Once U.S. coach Mike Krzyzewski told the U.S. Olympic team that it was playing in probably the biggest basketball game here since the Dream Team ruled Barcelona, the Americans couldn't help wanting to take it to Spain — even if it may have messed them up in the beginning.
"Today was one of those games that as a team, as a unit, we really tried to lock in from the start," Anthony said. "I think we came out a little bit too focused, a little bit overzealous at the beginning and they jumped on us quick.
RECOMMENDED: Are you a real Olympics fan? Take the quiz
"They came out with a lot of intensity and got some easy shots, easy baskets. Once we settled down and made a couple plays defensively, got back to our comfort zone, we didn't look back from there."
Anthony came off the bench to score 23 of his 27 points in the first half, and the Americans beat Spain 100-78 Tuesday night in a rematch of the 2008 Olympic gold-medal game — and a possible preview of the next one.
James added 25 and Kevin Durant had 13, including 10 in the first 3½ minutes of the third quarter to help the U.S. break open the teams' final exhibition game before heading to London.
---