London 2012 archery: Italy takes gold, USA gets silver
London 2012 archery: The men's team archery competition was won by Italy. It was Italy's first-ever gold medal in archery. The USA came in second, and South Korea placed third.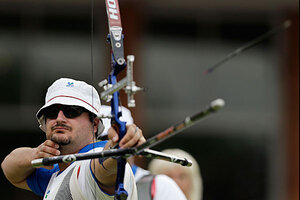 (AP Photo/Marcio Jose Sanchez)
Italy won the gold medal in men's team archery at the Olympics on Saturday, beating the U.S. by one point on the final shot.
The Americans' silver was the country's first medal of the games. South Korea took bronze.
Michele Frangilli, Marco Galiazzo and Mauro Nespoli hugged and raised their hands in celebration after the final arrow beat the Americans 219-218 at Lord's Cricket Ground. The gold was Italy's first ever in the event.
The Team USA silver medalists were Jacob Wukie, Brady Ellison, Jake Kaminski.
South Korea bronze-winning team was comprised of Oh Jin Hyek, Im Dong Hyun, Kim Bubmin).
Here's a round by round breakdown of Saturday's men's team archery competition.
RECOMMENDED: Are you a real Olympics fan? Take the quiz
1/8 Elimination
Ukraine (Markiyan Ivashko; Dmytro Hrachov; Viktor Ruban), def. Britain (Larry Godfrey; Simon Terry; Alan Wills), 223-212.
Japan (Takaharu Furukawa; Hideki Kikuchi; Yu Ishizu), def. India (Jayanta Talukdar; Tarundeep Rai; Rahul Banerjee), 214-214, (29-27).
Italy (Michele Frangilli; Marco Galiazzo; Mauro Nespoli), def. Taiwan (Yu-Cheng Chen; Cheng-Wei Kuo; Cheng-Pang Wang), 216-206.
---