Winter Olympics: Who will win the most medals?
(Read article summary)
Germany, Canada, and the United States will battle for overall medal title in the Winter Olympics for the foreseeable future. Watch for China to move up the ladder using the same strategy it did in Beijing.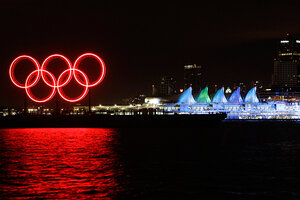 Marcio Sanchez/AP
Vancouver, British Columbia
The past two Winter Olympics have seen North America overthrow the traditional order of the medal table.
Gone are the days when the Winter Olympics were a European-only club, with countries from other continents only picking up the scraps. Famously, Canada failed to win a gold medal even in its own Winter Olympics – Calgary 1988.
That will not happen in Vancouver. Just as the Salt Lake Games catapulted the United States into the role of winter sports power, the Vancouver Games are expected to do the same for Canada.
But Canada may go one better than its southern neighbor. Despite unprecedented success during the past two Winter Games, the US has failed to unseat Germany atop the medal standings. In these Games, Canada may do it, according to many medal predictions by major sports publications and analysts.
Indeed, Vancouver in many ways will mark the cementing of the new Winter Olympic order first introduced in Salt Lake (2002) and refined in Turin (2006). The US and Canada are the kings of the Winter Olympics' newest sports – such as snowboarding and freestyle skiing – while Europe continues to dominate the traditional winter program.
---