America vs. Canada, Round 1: Who won Winter Olympic redemption?
(Read article summary)
Both Canada and the US broke long losing streaks Sunday. The US won its first-ever medal in Nordic combined. Canada won its first-ever gold on home soil. But which was a bigger deal?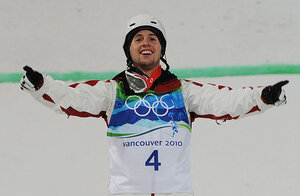 Newscom
Vancouver, British Columbia
In the past, America and Canada have fought over many things: Quebec, bacon, Bryan Adams.
So again Sunday a battle unfolded between these old foes, this time to claim the title of Most Deeply Aggrieved Nation to Find Redemption Through a Little-Known Statistic.
During the past few days, Canadians have been told (by Canadians, repeatedly), that Canada is the only nation ever to have hosted two Olympic Games (Montreal 1976 and Calgary 1988) and not to have won a gold medal in either.
And every four years, Americans are reminded that the words "America" and "cross-country skiing powerhouse" ought not to be used in close proximity.
Yet Sunday, 34 years after it opened its first Olympics, Canada won a gold medal on home soil.
And Sunday, 86 years after the first Winter Olympics introduced Nordic combined to a befuddled nation, America won its first medal in the sport.
Which was the greater achievement?
The properties of mathematics would seem to favor American Johnny Spillane and his silver in the Nordic combined, a sport that "combines" ski jumping and cross-country skiing. After all, 86 > 34.
---
Follow Stories Like This
Get the Monitor stories you care about delivered to your inbox.