Stephen Colbert cheers Shani Davis in Vancouver Olympics
(Read article summary)
Shani Davis went for gold today – and got it. One of his sponsors: Stephen Colbert of the 'Colbert Report,' who was in Vancouver to watch the race.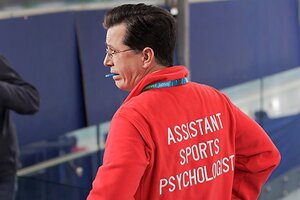 Peter Dejong/AP
As US Olympian Shani Davis was whipping around the rink Wednesday night en route to a repeat gold medal in the 1,000-meter speedskating finals, he got a few extra cheers from a comedian who's jokes he hasn't always appreciated.
Stephen Colbert, the faux-right wing anchorman and sponsor of the US speedskating team, attended Davis's race and others in between sessions of filming his eponymous television news parody, "The Colbert Report," live in a downtown Vancouver park today and tomorrow.
An invitation to attend the recordings includes a downloadable poster, designed by Shepard Fairey of the Obama Hope design, of a torch-carrying Colbert triumphantly riding a bald eagle into Vancouver. Beneath him appear the words: "Defeat the World!"
But as Davis sailed around the rink today, it's unlikely he was aware of anyone in the audience, let alone Colbert, whom he once called "a jerk."
The two celebrities got off to a rocky start last year when the brash speedskater bristled at Colbert's Canada-bashing schtick.
---