Hannah Teter: Olympic silver medal, heart of gold
(Read article summary)
Snowboarding's Hannah Teter won silver in the halfpipe Thursday. The famous Vermonter also shines in the charitable world, supporting numerous causes with her prize and endorsement proceeds.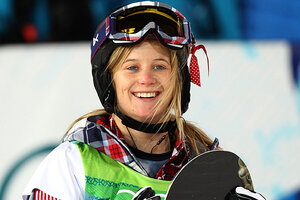 Newscom
Vancouver, British Columbia
When Hannah Teter tells the assembled media to check out sweetcheekspanties.com, she is serious. At least, as serious as Hannah Teter can be.
For a smart-mouthed Vermonter who manages to get a reference to her family's maple syrup business into every conceivable answer, what is serious and what is thinly veiled mockery of the straight-laced media is always open to interpretation.
These are facts:
After Thursday's women's halfpipe finals, she is a two-time Olympic medalist – with a gold from Turin and Thursday's silver behind Australian Torah Bright – and she is starting her own line of women's underwear (hence the website).
But that doesn't begin to tell the story.
For every pair of Teter's Sweet Cheeks underwear, $5 will go to Doctors Without Borders. Since the earthquake in Haiti, she has donated all her winnings to the relief effort – and will do the same here in Vancouver.
And, being a famous Vermonter, she has her own Ben & Jerry's ice cream flavor, of course – Maple Blondie, from which part of the proceeds go to her charitable foundation, Hannah's Gold.
Olympics a path to broader action
---