Ski cross: Five ways to get down the hill in one piece
(Read article summary)
The Winter Olympics' newest event began. Ski cross, like its snowboarding cousin, is a four-man melée down bumpy, jumpy slopes. American Olympian Casey Puckett offers his tips.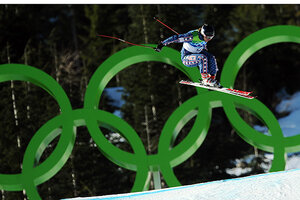 Newscom
Vancouver, British Columbia
Ski cross made its debut at the Winter Olympics Sunday, with the men skiing first.
After snowboardcross made its bow at the Turin Winter Olympics four years ago, ski cross will look familiar. It's the same format, only on skis, with four skiers going down a slope studded with bank turns and jumps. First one down wins.
Getting down, however, is where the fun comes in.
Following in the new Winter Olympics roller-derby spirit of short track speedskating and snowboardcross, ski cross can be a rough ride for competitors – jounced by bumps and elbowed by other skiers.
The US team is made up of two former Olympic alpine skiers who switched over once their careers going down the mountain solo were over: Casey Puckett and Daron Rahlves.
This is Puckett's fifth Winter Olympics, tying him with bobsled driver Brian Shimer for the most Winter Olympic appearances all-time by an American. As an alpine skier, he made his name as a risk-taker – actually crashing out of all his races in the 1992 Albertville Games.
Here, he talks about how to stay upright in the Olympics' newest event:
1. Have a plan
With three jostling skiers around you, things are bound to change as you go down the hill, but that doesn't mean you shouldn't have a game plan.
"Your game plan is done before you get into the gate," Puckett said before the Olympics began.
---