Ice dancing Olympics: Virtue, Moir, and the night we were all Canadians
(Read article summary)
The Canadian pair of Virtue and Moir won gold in Olympic ice dancing Monday night, but the inspiring competition and the pair's close connection to American silver medalists Davis and White made it feel like a victory for more than just Canada.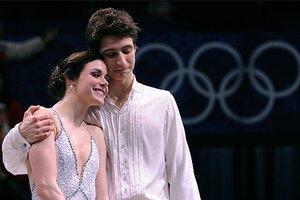 Newscom
Vancouver, British Columbia
Was there any American, in the end, who did not smile when "O Canada" rose from every corner of the Pacific Coliseum for Tessa Virtue and Scott Moir?
Certainly, Meryl Davis and Charlie White, one step below them on the podium, did.
One night before, another sport on ice – though a rather different one – had stoked national passions between the two North American neighbors. Then, in a game where two-thirds of all Canadians were watching, each body check boomed of backyard bragging rights.
But what happened in the ice dancing final Monday was something altogether different, and perhaps even more amazing. For a night, it seemed, the 48th parallel disappeared and we were not two brotherly nations, but brothers.
Technically, Virtue and Moir won gold for Canada and Davis and White won silver for the United States. Yet they were our medals. We were all winners. And not because there were no judging controversies or because North Americans had just won their first gold medal in ice dancing.
---