1980 'miracle on ice': an American in Moscow recalls Soviet reaction
(Read article summary)
A US student learned something about Soviet diplomacy while visiting during the 1980 Olympic men's hockey 'miracle on ice.'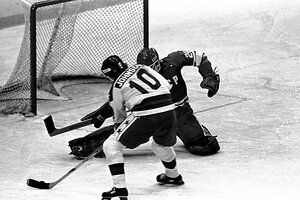 AP/File
The Berlin wall fell. The Soviet Union broke up. Poland's in NATO. Yawn.
But 30 years ago this week, a US Olympic hockey team made up of college amateurs beat a Soviet team of experienced hockey goliaths in Lake Placid. Now that's a miracle.
Forgive the opening facetiousness, and a slide into first person, but sometimes things that aren't supposed to happen, evidently do.
I'm remembering the Olympic "miracle on ice" from the vantage of a Moscow hotel, as part of a college group that just arrived in the Soviet Union of Leonid Breshnev, before perestroika and glasnost, when, for cold war babies, everything east of Berlin was wrapped in mystery and enigma. Moscow had invaded Afghanistan two months before and the trip almost didn't happen; we were one of few American groups in Russia at the time, eating green peas at every meal, since peas were the bountiful harvest that year.
---