How to donate to family of Georgian luger Nodar Kumaritashvili
(Read article summary)
The family of Georgian luger Nodar Kumaritashvili, who fatally crashed on the opening day of the 2010 Vancouver Olympics, is in dire financial need. A bank account has been set up for donations from around the world.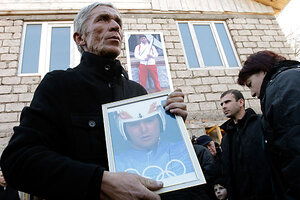 David Mdzinarishvili/Reuters
In the wake of widespread criticism over the fatal crash of Georgian luger Nodar Kumaritashvili, the International Luge Federation (FIL) has launched a donation campaign to help his family, which it says is in "urgent need" of financial support.
"Some years ago their house was completely destroyed by fire. Mainly with the help of their only son, the family had begun to rebuild the house which is still far from completion," FIL said in a March 11 statement.
The organization has donated an initial €10,000 ($13,648), and is encouraging others to wire contributions to "International Luge Federation, donation account Kumaritashvili" at the Sparkasse bank in Berchtesgaden, Germany. For those interested in doing so, the details are:
Account number: 20121422
Bank code: 71050000
IBAN: DE12 7105 0000 0020 1214 22
Swift: BIC BYLADEM1BGL
The Monitor confirmed with the bank that donations cannot be sent by mail.
Olympic roots
Kumaritashvili hailed from the Georgian town of Bakuriani, which has a strong winter sports tradition. Once the training ground for Soviet winter athletes, it produced nearly half of Georgia's eight-member Olympic team in Vancouver, according to The New York Times.
---