Iran keeps issuing threats, US keeps saving Iranian sailors
(Read article summary)
As Iran has been promoting its naval prowess and ability to shut the Straits of Hormuz, US naval assets have been busy rescuing Iranian sailors.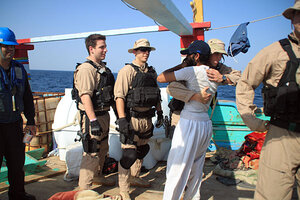 US Navy/AP
The information warriors at the Pentagon probably can't believe their luck.
Iran has spent much of the past month crowing about how it could shut down the Strait of Hormuz -- a choke-point for vast quantities of seaborne oil for nearly 40 percent of the world -- and said it was "warning" the US to keep its ships out of the Persian Gulf. The US, as a far greater naval power, with a naval base in Bahrain, and an interest in keeping sea lanes open, brushed off the Iranian threat.
Though tensions have continued to rise, with Iran sentencing Iranian-American Amir Mirzaei Hekmati to death yesterday for allegedly spying (his family says he returned to Iran to visit his grandmother) and new US sanctions on Iran's central bank, two peaceful opportunities to underscore the US naval reach in the region literally fell into America's lap.
Last week, the Navy destroyer USS Kidd swept in and rescued 13 Iranian fishermen who'd been held hostage on their small boat by Somali pirates for over a month. The fishermen, who'd been through a "horrific" ordeal according to one of their American rescuers, were given food, medical treatment, and enough fuel to steam home.
---