Looming Iranian missile threat to US? Pshaw.
(Read article summary)
Evidence points to Iran being years away from having missiles that can reach the US – although it already has missiles that can reach Israel.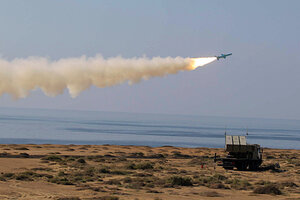 Hamed Jafarnejad/Fars News Agency/AP/File
Israel has been hyping up the likelihood that Iran will soon have missiles that can hit the US. Spencer Ackerman explains why that's probably not true:
From getting all the rocket thrusters to work properly to developing heat shields that can withstand the stresses of rapid atmospheric reentry, Iran is probably many years away from getting an intercontinental ballistic missile (ICBM). The American spy apparatus, which once hyped the Iranian missile threat, has quietly stopping saying when Iran can hit the east coast. And the irony is that it's taking Iran so long precisely because its missile efforts really are sophisticated.

"The bottom line," says Paul Pillar, a veteran CIA Mideast analyst, "is that the intelligence community does not believe [the Iranians] are anywhere close to having an ICBM."
It's in Israel's interests of course to convince the US otherwise, since Iran does have missiles that can reach that country. Israeli Finance Minister Yuval Steinitz said in a CNBC interview on Wednesday. "We estimate that in 2-3 years they will have the first inter-continental ballistic missiles that can reach the east coast of America."
---