Update on Iraq: Not quite freedom on the march
(Read article summary)
The crackdown on political protest in Iraq, from Baghdad to autonomous Kurdistan, shows that the country is far from a flourishing democracy.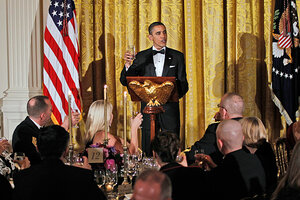 Pablo Martinez Monsivais/AP
Toward the end of February, Iraqis took to the streets to commemorate the anniversary of their own – ultimately unrealized – attempt at starting an uprising against a corrupt, increasingly authoritarian political order.
What happened?
Those efforts, in imitation of the uprisings that upended the political orders of Tunisia, Egypt, and Libya, were shot down by the country's security services.
"Security forces blocked access to protest sites in Baghdad; beat and arrested peaceful demonstrators in Sulaimaniya, Kurdistan; and briefly detained, beat, or confiscated equipment from media workers and prevented others from covering the protests," according to Human Rights Watch.
Meanwhile for the US, the expensive and bloody Iraq war is already a fading memory.
On Wednesday President Obama hosted a dinner for a select group of veterans and officials involved with the Iraq war. "The nation's gratitude dinner," remembered the more than 4,000 soldiers who died, the thousands more who lost limbs and suffered permanent injury, and the sacrifices made by the families at home.
---