Senator McCain calls for war in Syria
(Read article summary)
Senator John McCain took to the senate floor and made an impassioned plea for a US-led war effort. He's probably not going to get what he's asking for.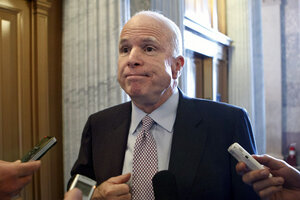 J. Scott Applewhite/AP
Senator John McCain urged the US to move towards war with Syria today. McCain also demanded that President Barack Obama commit himself to using force.
"The President must state unequivocally that under no circumstances will Assad be allowed to finish what he has started, that there is no future in which Assad and his lieutenants will remain in control of Syria, and that the United States is prepared to use the full weight of our airpower to make it so."
There is certainly reason for alarm from a humanitarian and moral point of view. As McCain said: "The kinds of mass atrocities that NATO intervened in Libya to prevent in Benghazi are now a reality in Homs," Senator McCain said. "Indeed, Syria today is the scene of some of the worst state-sponsored violence since Milosevic's war crimes in the Balkans, or Russia's annihilation of the Chechen city of Grozny."
---