Netanyahu says Iran sanctions aren't working. His UN ambassador disagrees.
(Read article summary)
Who to believe?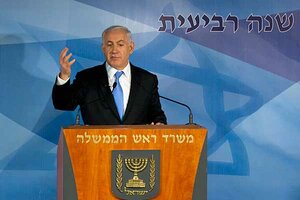 Bernat Armangue/AP
Israeli Prime Minister Benjamin Netanyahu, as is his habit, sought to pour cold water over the notion that US-led international sanctions on Iran are having an effect on its controversial nuclear program.
Sure, the sanctions have undermined the Iranian currency, resulted in the expulsion of Iran's central bank from the international system that facilitates interbank transfers, and squeezed Iran's oil exports, the government's major revenue source. The rial has lost about 40 percent of its value against the dollar since December, and is now trading on the informal market at about 20,000 rials to the dollar. In the latest sign of the pain being inflicted on Iran's economy, a newspaper there today reports that the government has banned the import of 600 products.
But Mr. Netanyahu told reporters yesterday that he sees no evidence of any impact on Iran's calculations about its controversial nuclear program. Israel insists Tehran is seeking a nuclear weapon, but Iran says its program is for peaceful purposes only. (A report from the United Nations nuclear watchdog last fall estimated that Iran stopped the bulk of its weapons-related work around 2003, but continued some modeling and design work until 2009.) The Israeli prime minister also indicated that he hopes sanctions lead to regime collapse.
---