Teargas on democracy protesters? Bahrain Grand Prix sponsors say 'no problem'
(Read article summary)
It appears the Formula One Bahrain Grand Prix scheduled for this weekend will go on, despite the use of tear gas and rubber bullets on protesters there. Advertisers don't appear worried about any backlash.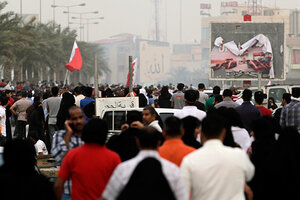 Hasan Jamali/AP
Vodafone. Allianz. Reebok. Microsoft. Tag-Heur. All among the leaders in their respective fields. And these and dozens of other companies have, in effect, put their seal of approval on the actions of the monarchy in Bahrain.
The Bahrain Formula 1 Grand Prix takes place this weekend amid tens of thousands of protesters in Manama braving tear gas and birdshot as they demand political change in the tiny monarchy. Ferrari, Mercedes, and the other glamour teams are practicing today, will run in the qualifying round tomorrow, and will zoom off in the official race scheduled for Sunday, with an expected global TV audience of at least 100 million.
Some of the globe's best-known brands will have their logos spread across the barriers, the promotional literature, the broadcasts, and the cars themselves. That they're not concerned this amounts to a vote of confidence in a monarchy that has been accused of jailing and torturing peaceful demonstrators, with the aid of its powerful neighbor Saudi Arabia, is an indication that in the realm of international public opinion, the ruling Khalifa family is winning.
Take this from Allianz, one of the largest insurers in the world, on its involvement with the sport: "The partnership between Allianz and Formula One is a trusted alliance designed to highlight the importance of risk management and road safety as well as build the Allianz brand globally."
---