After Formula One scrutiny, Bahrain hires a fan of Saddam Hussein to improve its image
(Read article summary)
Well, nothing else is working.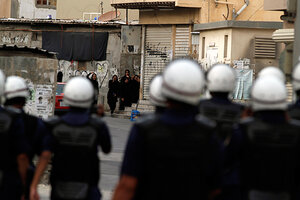 Hasan Jamali/AP
Last weekend's Formula One race in Bahrain brought exactly the kind of attention that the tiny kingdom didn't want.
Instead of a global event highlighting its qualities as rapidly advancing economy, Bahrain received a storm of attention over its use of tear-gas, birdshot, and torture against democracy protesters.
The Sunni monarchy, with a Shiite-majority population, ended the weekend with a fresh black eye. Sure, the event went on, but only after tens of thousands of protesters took to the streets, the daughter of human rights activist Abdel Hadi al-Khawaja was arrested as she protested against her father's indefinite detention, and motor-sport journalists were forced to to tackle politics and oppression, rather than tactics and technology, in their columns. (Ahead of the race, F1 correspondent Kevin Eason of The Times wrote, "whatever happens in Bahrain this weekend, F1 has underlined its unenviable image as amoral and greedy.)
Marc Lynch, writing in Foreign Policy, had this take on events:
"This week's Formula One-driven media scrutiny has ripped away Bahrain's carefully constructed external facade. It has exposed the failure of Bahrain's regime to take advantage of the breathing space it bought through last year's crackdown or the lifeline thrown to it by the Bahrain Independent Commission of Inquiry. That failure to engage in serious reform will likely further radicalize its opponents and undermine hopes for its future political stability."
---