In Malaysia, a May Day pay raise, but no victory for democratic reformers
(Read article summary)
The protesters of the Malaysia's Bersih democracy reform movement appear to have pushed Malaysia into announcing its first ever minimum wage. Electoral reform is something else again.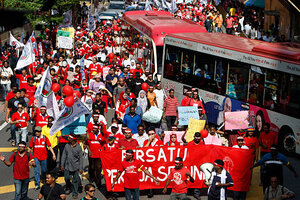 Lai Seng Sin/AP
Malaysia's unpopular Prime Minister Najib Razak has had a rough week.
Tens of thousands of protesters from the Bersih reform movement went back to the streets of Kuala Lumpur, where they were greeted with riot police, tear gas, and more than 500 arrests. And Mr. Najib's approval rating took a hit after the last crackdown on protesters from the Coalition for Clean and Fair Elections, or Bersih.
Now, two days after the street battles in Kuala Lumpur, Najib's government has made a major gesture toward political popularity. For May Day, he announced Malaysia will institute its first ever minimum wage: A monthly salary of 900 ringgit ($300). A pay raise for Malaysia's poorest isn't what Bersih is after, but Najib is betting it will prove popular at the ballot box. Najib said when making the announcement that a government survey had found one-third of Malaysia's workers earn less than 700 ringgit a month.
The trouble appeared to start after protesters pushed through barriers erected to keep them out of Dataran Merdeka (Independence Square) in the capital, and the riot police responded with force.
The rally was a platform for opposition leader Anwar Ibrahim to speak to vast crowds expressing dissatisfaction with Malaysia's tightly controlled political process, amid indications the country might hold early elections in June.
The coalition is now demanding an overhaul of Malaysian electoral rules they say have given Malaysia's ruling Barisan Nasional (National Front) a lock on political control since independence and the creation of the modern state in 1963 and led to a feudal brand of politics, with spoils sharing among the ethnic parties that back the organization. The country maintains a long-standing policy of economically favoring ethnic Malays over the country's sizable ethnic Chinese and Indian minorities.
---