Egypt political chaos threatening to foment actual chaos
(Read article summary)
Clashes between gunmen and protesters near the Egyptian Ministry of Defense in Cairo have left at least 11 dead in the past 24 hours, inflaming an already tense and uncertain political transition.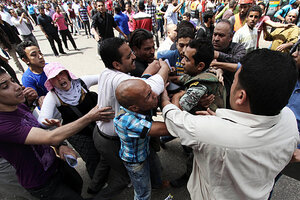 AP
The steady unraveling of Egypt's "transition process" continued today, with clashes outside the Ministry of Defense as thugs armed with guns and knives sparked a melee that left at least 11 people dead and dozens injured.
A small group of Islamist protesters demanding the reinstatement of salafi sheikh Hazem Salah Abu Ismail into the presidential race were attacked by a group of armed young men in civilian dress, according to reporters on the scene. Despite the fighting occurring so close to the defense ministry, no major effort to provide security was evident.
Egypt's transition has been run by a military junta, the Supreme Council for the Armed Forces (SCAF), since Hosni Mubarak was pushed from office in February 2011. The next step to returning to some semblance of normalcy are presidential elections scheduled to begin in just three weeks.
But every other step leading up to this point has gone badly wrong.
---