You can't say it enough: Syria is really different from Libya
(Read article summary)
Syria's war is as violent today as at any point of the over year-long conflict, and a UN peace plan spearheaded by Kofi Annan is in tatters. But that doesn't spell military intervention.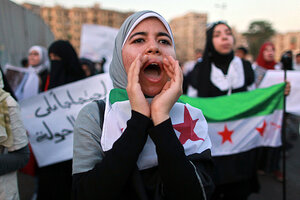 Mohammed Salem/Reuters
Syrian rebel leaders have declared a UN peace plan for the country to be a failure, joining a chorus of international opinion in agreement.
There's good reason for that. Syria's civil war rages as hot or hotter as it has at any point since the uprising erupted early last year. President Bashar al-Assad may be ringed with international sanctions, but his security forces, from the Army to the special police, remain united and behind him. Pockets of Syrian territory are outside of government control, but not vast enclaves. Troops move freely around the country.
The Houla massacre last week, with at least 108 civilians murdered by militiamen alleged to be loyal to Mr. Assad (the BBC has published satellite images that make a convincing case of major Syrian government troop movements around the city at the time of the murders), has heightened the sense of crisis at the UN and world capitals.
The remaining option would appear to be military action designed to remove Assad from power. But the Obama administration appears to be backing away from that position, a consequence of the dawning reality of the challenges and steadfast Chinese and Russian opposition to any United Nations Security Council (UNSC) action.
---