Assange and allies claim vast conspiracy as extradition fight hits home stretch
(Read article summary)
Two women in Sweden allege they were sexually assaulted by Julian Assange, the Wikileaks founder. Assange and many supporters say they're part of a vast conspiracy against him.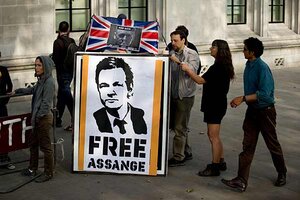 Matt Dunham/AP
Two women have alleged that Julian Assange, the founder of the Wikileaks website, sexually assaulted them in Sweden. Mr. Assange and his supporters insist the allegations are the result of a combination of two women scorned seeking revenge and a Swedish state that is secretly conniving with the US to extradite the former hacker to the US to face charges related to his release of hundreds of thousands of US military and State Department documents two years ago.
Now Assange's nearly two-year fight against extradition to Sweden for questioning over the allegations is heading to the end game. A final decision will be made within two weeks.
The claims of the two women are complicated by the fact that both say they had previously had consensual sex with Assange. One of the two women has told Swedish investigators that she was coerced to have sex with Assange, and that he carried on without using a condom, despite her insistence that he use one. The other said he initiated sex with her while she was asleep, and without consent being given.
---