Is the Islamopocalypse really upon us?
(Read article summary)
No. Turn off the television news (or put down your copy of Newsweek) if you think otherwise.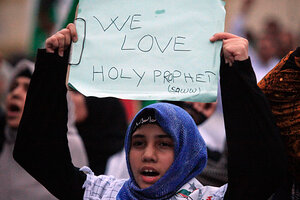 Mohsin Raza/Reuters
You are forgiven if you hold the mistaken belief that the entire Muslim world is aflame with anti-American "rage." Cable news has been pumping the message for days now, and Newsweek has jumped on the bandwagon with a cover that perfects the approach to the world's 1.5 billion Muslims as a violent, reactive mob.
"Muslim Rage," screams the banner headline for an article written by anti-Islam activist Ayaan Hirsan Ali, over a picture of two men (one helpfully wearing a turban) looking rageful. "How I survived it, How we can end it," goes the subhead.
I'll return later to the policy dangers of viewing the world's Muslim inhabitants as an undifferentiated mass that can be "solved."
But it's time for some perspective. The protests in more than 20 Muslim countries, over a deliberately insulting YouTube video, have been small. Small as a proportion of the world's Muslims, and small when compared to other Muslim "insult" protests in the past. And almost certainly small, when their impact is considered a few months from now.
As the #muslimrage Twitter hashtag (killing Newsweek with comedy) has pointed out all day, most Muslims aren't raging at the US or anything else. Some are raging at rude taxi drivers. Others are kind of nervous about problems at work. And still others are thinking about maybe having a sandwich.
---