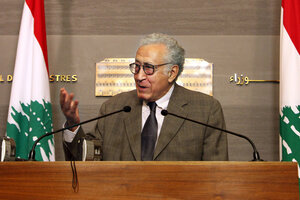 Bilal Hussein/AP
The UN special envoy for Syria Lakhdar Brahimi (who did such a bang up job as UN special envoy for Iraq and Afghanistan) has been lobbying for a three-day ceasefire in Syria to mark a Muslim holiday.
Mr. Brahimi wants the cease-fire for three days around Eid al-Adha, the Muslim holiday that celebrates Abraham's willingness to sacrifice his son at God's command. Iran and Turkey, which support the regime of Bashar al-Assad and the rebellion, respectively, are on board. Will there be a cease-fire? The smart money should bet against it. There have been promised cease-fires before that have been completely ignored. There's no particular reason to think this would be any different.
And while country's like Iran and Turkey (and the US, and Qatar, and Saudi Arabia, each in their own fashion) are backing factions in the Syrian civil war, that doesn't give them much, if any, control over their behavior. It is often foolishly imagined that a paid rebel or government is a bought rebel or government. They maintain their own interests.
---