Shades of Iraq in Afghanistan? Problems with shoddy contracting work
(Read article summary)
A Special Inspector General for Afghanistan Reconstruction (SIGAR) report singled out a $78 million contract to build a garrison for the Afghan National Army as of particular concern.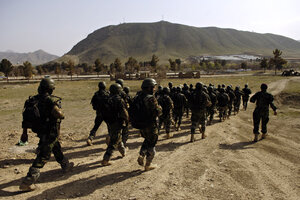 Andy Nelson/File
SIGAR, the US government body assigned to audit and oversee US spending on reconstruction projects in Afghanistan, has released the latest in a series of reports detailing contractor failings with minimal accountability in Afghanistan.
The report out today focuses on $72.8 million contracted to DynCorp international by the Army Corps of Engineers to build "Camp Pamir" for the Afghan National Army in Kunduz Province, which is meant to house 1,800 Afghan soldiers. The specifics of the report are reminiscent of dozens of previous reports on US contracting in Iraq and Afghanistan over the past decade. In Iraq, contracting problems were apparent almost from the start of the war. (I wrote in June 2004 on shoddy school reconstruction in Iraq.)
When the inspector general for Iraq reconstruction closed up shop, its final report fretted that "billions" of US taxpayer money may have been wasted while enriching contractors. That there are major problems in Afghanistan as well has been long understood.
---