The myth of Iraq's squandered stability
(Read article summary)
The finger-pointing in the US over who "lost" Iraq ignores an important reality: It was never won.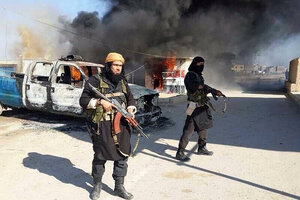 AP Photo via militant website
In early 2008, Gen. David Petraeus was presiding over a strategy that was designed to restore security to Iraq and, crucially, give the country's political factions breathing space to pursue reconciliation and compromise.
In March of that year, Gen. Petraeus said that despite a lack of progress on national reconciliation, he was hopeful that Iraqi leaders would "exploit the opportunities that we and our Iraqi counterparts have fought so hard to provide them." A key to his strategy was the Sahwa, or Awakening, a militia movement that drew its strength from Sunni Arab tribes who were sick of Al Qaeda's local affiliate and wanted to carve out a peaceful future in a new Iraq.
As it turned out that opportunity was spurned at the very moment that it was offered. Instead, the political course that Prime Minister Nouri al-Maliki and his allies charted in 2008 has, more than anything, led to the state of near open-insurrection across the Sunni Arab dominated Anbar Province today.
This is the key to unpicking Iraq's challenges today - and assertions from politicians like Sen. Lindsey Graham or Sen. John McCain that all would be different if President Barack Obama had managed to keep a residual force of 12,000 or so US troops in the country is highly speculative, at best. Iraqis failed to negotiate a durable and just peace when there were over 150,000 US troops in the country. Nor did the extended military drawdown prod them in that direction. The last combat troops left in December 2011.
---