In Philippines, family politics muddy post-typhoon rebuild
(Read article summary)
Reconstruction aid is arriving in Tacloban but its mayor is sparring with Philippine President Benigno Aquino. Both are scions of rival political families.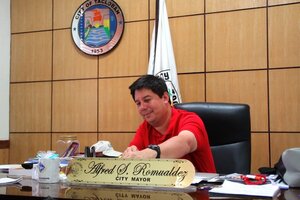 Clea Broadhurst/Special to The Christian Science Monitor
As the government and international aid agencies begin planning for the long-term recovery of areas devastated by Typhoon Haiyan, national and local politics are muddying the waters. 
Nowhere is that clearer than in Tacloban, the worst hit city, where Mayor Alfred Romualdez is complaining about a lack of help from the national government in Manila after President Benigno Aquino publicly accused the city of being unprepared for the record storm last November.
There's a bitter history here. Mr. Romualdez is a nephew of Imelda Marcos, widow of former dictator Ferdinand Marcos and a native of Leyte, of which Tacloban is the provincial capital. Ms. Marcos and her family remain popular here.
President Aquino is the son of "Ninoy" Aquino, leader of the "people's power movement" that overthrew Mr. Marcos in 1986 and restored democracy in this former US colony.
UN officials say the international emergency relief effort has reached typhoon survivors regardless of their political sympathies. But the fate of funds destined for rebuilding this shattered city — a long-term undertaking — is less certain.
Romualdez said in an interview that there had been "apparently no response" to his request for emergency financial aid from the central government and that he was "not confident" that he would get such aid. His family background, he said, meant he was "walking on thin ice" in his dealings with Manila.
Meanwhile Nestor Villarin, an Aquino ally who runs the Leyte Metropolitan Water District, says he fears that political differences with the Mayor may undermine his plans to repair the city's pipes.
"We are a government corporation so we are identified with the government," he explains. "We will ask for permits to dig up the roads and the municipality should give them right away, but if politics intervene there will be delays." That is a real risk, he says. "A project identified with a politician whom you are not aligned with is a problem."
Balancing two sides
Such sensitivities are complicating international recovery efforts in stricken regions of the Philippines. "I spend a lot of time balancing" between the two sides, says one senior foreign aid official here. "We need to be aware and understand the dynamics at play."
It could be worse. Aid workers with experience in Indonesia's Aceh Province after the 2004 tsunami recall that they had to navigate between two sides in a civil war as they did their work, though the disaster ultimately paved the way for a peace deal in Aceh.  
But rivalries between the Romualdez administration in Tacloban and the Aquino-allied provincial governor of Leyte "are a challenge," says Peter Struijf, local program manager for Oxfam. "Finding land to relocate people is made more difficult if it is politically problematic to move them out of the city, and there are questions about where investment in recovery should go."
If such rivalries persist, they will "definitely hamper this city's ability to come back" worries one local businessman who asked not to be identified because of the delicacy of the political situation. "Between the two sides the people suffer. They do not deserve this treatment."
---