Russia: The time for Syrian democratic reforms has come (+video)
(Read article summary)
Russia's foreign minister is meeting with Assad in Damascus today, just days after Moscow blocked UN action against the regime.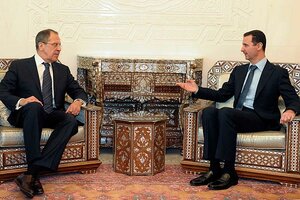 Reuters
• A daily summary of global reports on security issues.
Russian Foreign Minister Sergei Lavrov is in Syria today to meet with President Bashar al-Assad, just days after Russia and China blocked a United Nations Security Council effort to take stronger actions against Syria.
Mr. Assad's supporters lined the streets of Damascus, waving flags – including a few Russian flags – to welcome Mr. Lavrov to the city, Reuters reports. Russia has been a staunch voice of opposition to international intervention in Syria. The Russian foreign ministry said Lavrov is there seeking "the swiftest stabilization of the situation in Syria on the basis of the swiftest implementation of democratic reforms whose time has come."
In the days since its veto of the Security Council resolution, Russia has been in "full damage-control mode" amid an onslaught of international criticism, The Christian Science Monitor reports. Russian analysts defend Moscow's opposition, by saying the Western-backed resolution lacked a strategy for the "state collapse and social catastrophe" that is likely to follow if Assad is overthrown.
---