France arrests 10 suspected militants in latest post-Toulouse raids
(Read article summary)
While President Nicolas Sarkozy denies the crackdown on alleged Islamist militants in France has anything to do with last month's shootings in Toulouse, today's raids were the second series since the incident.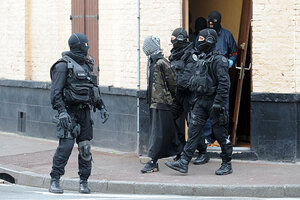 AP
• A daily summary of global reports on security issues.
France arrested 10 suspected Islamist militants today, the latest detentions in an ongoing government crackdown since a French citizen, claiming inspiration from Al Qaeda, killed seven people last month.
The 10 were arrested in early morning raids in five different locations across the country, mostly in the south. Several news reports indicated they were either planning to go to Afghanistan or Pakistan to attend militant training camps or had recently returned. The New York Times reports that they fit the same "disaffected loner profile" as Mohammed Merah, the 23-year-old French-born Muslim responsible for last month's shootings, and were not part of any sort of network.
Today's raid was the second in the past couple of weeks, although President Nicolas Sarkozy, who is running for reelection in a tight race, said the arrests are not connected to either Mr. Merah's killings or the upcoming presidential elections.
Reuters notes that some French media outlets had been tipped off about the raids and police did not block off the area, encouraging mass coverage of the raid.
---