Beijing responds calmly to India missile test
(Read article summary)
The Chinese government has underscored its desire for cooperation with India, rather than an arms race.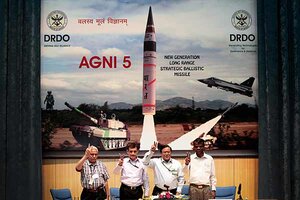 Manish Swarup/AP
• A daily summary of global reports on security issues.
Chinese media carried both stern and petty responses to India's test launch yesterday of a nuclear-capable missile that could reach Beijing, but official Chinese government responses indicate that China does not want to drive up tensions with India over the launch.
"China and India are both emerging countries, we are not rivals but cooperation partners," said Liu Weimin, China's foreign ministry spokesman, according to CNN. "We believe the two countries should cherish the hard-won momentum of sound bilateral relations, promote bilateral friendship and cooperation, and make active contributions to regional peace and stability."
The Agni-V missile, as it is called, can travel 5,000 kilometers (3,100 miles), which puts both Beijing and Shanghai in range. China is already capable of reaching India with its own missiles.
The New York Times portrayed the launch as a development in a regional "arms race," headlining its report, "Signs of an Asian Arms Buildup in India's Missile Test."
---