Syria's top defector says Assad not afraid to use chemical weapons
(Read article summary)
Syria is believed to have the Arab world's largest stockpile of chemical weapons. An ex-official warned that Assad would use them if backed into a corner.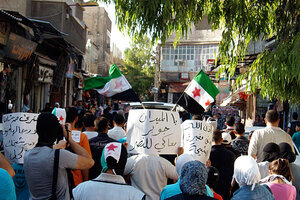 Courtesy of Shaam News Network/Reuters
• A daily summary of global reports on security issues.
As fighting continued for a third day in the capital of Damascus, the highest-level politician to defect from the Syrian regime warned today that President Bashar al-Assad would not hesitate to use chemical weapons if cornered.
During an interview with the BBC in Qatar, former Syrian Ambassador to Iraq Nawaf Fares was asked about Mr. Assad's willingness to use chemical weapons against the Syrian people. "There is some information, unconfirmed information of course, that chemical weapons have been used partially in Homs," Mr. Fares said through a translator. "However, I have absolute conviction that if the circle of the people of Syria becomes tighter on the regime, the regime will not hesitate to use chemical weapons."
The BBC's Frank Gardner, who interviewed Fares, notes in a separate article that the ex-ambassador only offered his convictions as evidence of his chemical weapons claims. "I have built my opinion based on my knowledge of the regime's mentality and the government's mentality," Fares told Mr. Gardner.
---