As Syrian conflict intensifies, UN prepares to extend its mission
(Read article summary)
Today's assassination of two top government officials in Damascus raises the stakes of Syria's conflict yet again. Will the UN vote to continue its observer mission, or give it more teeth?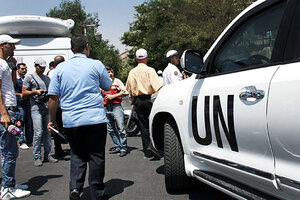 Bassem Tellawi/AP
• A daily summary of global reports on security issues.
Diplomatic efforts to end the bloodshed in Syria are plodding along, with the United Nations Security Council expected to vote today on a resolution to extend the UN observer mission in Syria. Meanwhile, the conflict has passed yet another milestone: its first high-level assassination.
The vote comes on the heels of a suicide bombing at a government building that killed Defense Minister Daoud Rajha and Deputy Army chief Assef Shawkat, who is reportedly President Bashar al-Assad's brother-in-law. It is the first major assassination of the 17-month conflict, and a possible turning point for the opposition in attacking major installations of the Assad government.
The UN's observer mission expires in two days, and the Security Council has long been divided over whether or not the new agreement should include sanctions against the Syrian government. Russia, a longtime ally of the Assad regime, says it will not support the enactment of Chapter Seven of the UN Charter, which allows for the use of sanctions and military intervention. Russian diplomats acknowledge, however, there is always the possibility of last-minute negotiations, reports the Associated Press. China has backed Russia in blocking previous resolutions proposed by the US and European Security Council members.
---