Chemical weapons? Syria 'backpedaling furiously' over weapons threats
(Read article summary)
One day after threatening to unleash chemical weapons if it were invaded, Syria denies having unconventional weapons, and says West is preparing an Iraq-style intervention.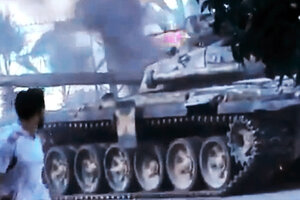 Ugarit News via AP video/AP
• A daily summary of global reports on security issues.
Syrian rebels have accused the Assad regime of moving its chemical weapons to the borders, even as the Syrian government has been "backpedalling furiously" from its warning yesterday that it would use its chemical arsenal against foreign intervention in the civil war gripping the nation.
Agence France-Presse reports that the Free Syrian Army warned in a statement today that President Bashar al-Assad's government has been moving its chemical weapons to new locations along the Syrian border.
"We in the joint command of the Free Syrian Army inside the country know very well the locations and positions of these weapons," the statement said. "We also reveal that Assad has transferred some of these weapons and equipment for mixing chemical components to airports on the border."
"According to our information, the regime began moving its stocks of weapons of mass destruction several months ago ... with the goal of putting pressure on the region and the international community."
The FSA's statement comes as the Syrian government appears to be stepping back from yesterday's warning that the regime has a chemical arsenal that it will use against foreign intervention.
---