Iran convenes conference on Syria, vowing to preserve the 'axis of resistance'
(Read article summary)
Iran, largely isolated from the West and a steadfast ally of Syria's President Assad, has a lot to lose if the regime in Damascus falls.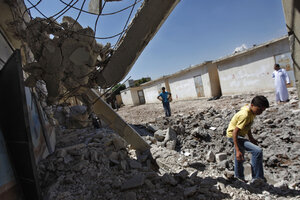 Khalil Hamra/AP
• A daily summary of global reports on security issues.
After numerous failed diplomatic attempts by the United Nations to rein in the violence in Syria, Syrian ally Iran offered up its own solution: a conference of nations with "a correct and realistic position" on resolving the civil war.
The fall of Syria's Bashar al-Assad could have destabilizing consequences for the region and Iran, a longtime ally that has largely isolated itself from the West. Iran's visiting head of national security, Saeed Jalili, said on Aug. 7 that "Iran will not tolerate, in any form, the breaking of the axis of the resistance, of which Syria is an intrinsic part."
Iranian officials traveled to Syria this week after rebels kidnapped 48 Iranians. Tehran insists the captured men were religious pilgrims, but the rebels who took responsibility for the kidnapping have said they are members of Iran's Revolutionary Guard.
---