Iran nuclear threat: Netanyahu goes to the people - the American people, that is
(Read article summary)
Israeli Prime Minister Benjamin Netanyahu argues his case for establishing 'red lines' on Iran's nuclear program on NBC and CNN today.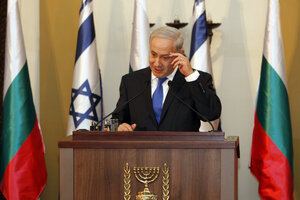 Gali Tibbon/AP
• A daily summary of global reports on security issues.
Israeli Prime Minister Benjamin Netanyahu is taking his case for stronger action against Iran straight to the American people, after facing stiff opposition from the Obama administration.
"Iran is guided by a leadership with an unbelievable fanaticism," he told NBC's Meet the Press. "It's the same fanaticism that you see storming your embassies today. You want these fanatics to have nuclear weapons?"
Mr. Netanyahu's interviews with NBC and CNN, airing this morning, coincide with a report that Israeli officials have been trying in vain for months to convince their US counterparts of an increasing radicalization across the Middle East.
Those trends, Israel reportedly warned, concern not only Israel but also US interests in the region, according to an article in Israel's left-leaning Haaretz newspaper.
"The Americans were constantly trying to supply explanations and excuses for events in the post-revolution Arab states, and simply ignored the problems," a senior Foreign Ministry official is quoted as saying. "Only now, after what happened to their embassies, the Americans are beginning to understand the situation."
---