Turkey vows tougher response if Syrian shelling continues
(Read article summary)
Several Syrian mortars landed in Turkey today. The two countries have exchanged fire for the past week, though Syria says it does not want a military confrontation.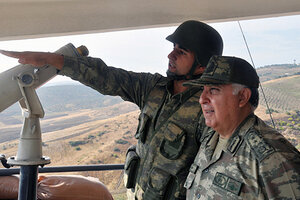 Turkish Military/AP
• A daily summary of global reports on security issues.
After a week of cross-border artillery and mortar exchanges between Turkey and Syria in response to Syrian shelling, a top military commander today said Ankara would launch an even tougher response if Syrian shells continue to land in Turkey.
"We retaliated immediately, we also inflicted losses," a Turkish news agency quotes Gen. Necdet Ozel, chief of the Turkish general staff, as saying about the shelling, which killed five in a Turkish border town last week, reports Bloomberg. "If it continues, we will make a stronger response," Ozel said.
Ozel didn't expand on the kind of added force Turkey could use against Syria, but his statement comes almost a week after Turkey's parliament authorized military offensives into foreign countries, including Syria. And yesterday, NATO said it was drawing up plans to defend Turkey in the case that Syria's war spilled over the border again, reports Reuters.
"We have all necessary plans in place to protect and defend Turkey if necessary," NATO Secretary-General Anders Fogh Ramussen said in Brussels, noting that the 28-member NATO alliance, of which Turkey is a member, was holding out hope that an alternative path could be found.
---