Syria's opposition groups convene in Qatar – can they build a unified front?
(Read article summary)
The opposition's Syrian National Council began a conference in Qatar yesterday to overhaul its structure. Many, including the US, have lost confidence in the fragmented group.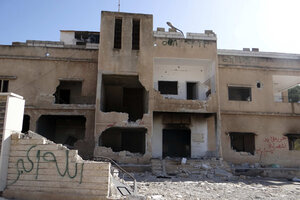 Al-Mutsem Be-Allah/Shaam News Network/REUTERS
• A daily summary of global reports on security issues.
Sharp divides among Syrian rebel leaders are already apparent after the first day of an opposition conference in Qatar, casting doubt on US hopes that the meeting will result in a unified opposition to the regime of Syrian President Bashar al-Assad.
The Syrian National Council (SNC), the opposition's primary political group that many, including US Secretary of State Hillary Rodham Clinton, have called dysfunctional and unrepresentative of rebels on the ground in Syria, began a four-day conference in Qatar on Sunday aimed at overhauling its structure and representation, reports BBC News. The group is under intense international pressure to reform itself, writes the BBC's Jim Muir.
The Syrian opposition is well aware that it is widely regarded as fragmented and ineffective, and that this is becoming more and more an issue as events on the ground gather pace.

The coming days will see the most concerted effort so far to pull the bulk of the opposition together and to create effective and credible structures that the outside world can work with in trying to bring about a transition in Syria.
---