Spate of deadly bombings rock Iraq before Shiite holy month
(Read article summary)
At least 14 people were killed and hundreds more injured in a series of apparently coordinated explosions in cities across Iraq.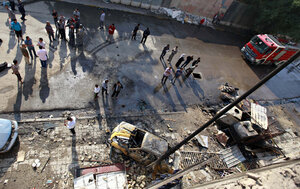 Khalid Mohammed/AP
• A daily summary of global reports on security issues.
A series of bombings across Iraq killed at least 14 people today and injured hundreds, highlighting the protracted challenge of sectarian violence in a country that only recently emerged from war.
Some 11 bombings and shootings took place in seven Iraqi cities, including the capital of Baghdad, in what Agence France-Presse called "a spate of apparently coordinated attacks."
The attacks took place on the eve of the Muslim festival marking the start of the Islamic New Year. Muharram, as the holy month is called, is of particular importance on the Shiite Muslim religious calendar, reports the BBC. A majority of Iraq's population is Shiite, and its religious festivals have been targeted by violence in the past by Sunni extremists.
There was no immediate claim of responsibility for the attacks, but AFP notes that "Al-Qaeda's front group in Iraq frequently carries out coordinated bombings and attempts mass-casualty attacks in a bid to destabilise the government through fomenting bloodshed."
Security, or a lack of, is a common theme in Iraq, as the Shiite-dominated government continues to struggle with Sunni Islamists and Al Qaeda affiliates seeking to undermine it. Although US troops withdrew from the country nearly a year ago and the war is over, there has never been a successful reconciliation between Iraq's Sunnis and Shiites – nor is the government apt to seek one, the Monitor's Dan Murphy wrote after a similar spate of bombings this summer.
---